A life-long love of learning begins in these foundational years, together we will create this journey to inspire every mind and explore every opportunity of learning!
We view the child as an independent learner. Our play-based curriculum, guided by the Australian Early Years Learning Framework (EYLF), aims to create an environment that engages, intrigues and supports constructive learning.
At Prepare Early Education Centres we pride ourselves on providing a warm, nurturing home away from home for your precious child. It is our commitment to collaborate and work alongside you to provide an extension of your home routine for your baby. We ensure that we develop respectful, responsive relationships with your baby, that will strengthen their ability to become active contributors to their world, enhance their sense of wellbeing and security and ensure that they have a positive and calm transition into their new environment.
We offer a hands on experience where your baby can learn all about their world and how they fit in. Your baby will be guided and cared for by our highly trained professional educators who are loving, caring and motivated to ensure your baby has the best opportunity to grow and flourish in our environment. Through our holistic approach, the educators will develop, support, and enhance your child's social, emotional, physical, and cognitive learning as they plan experiences for the children based on their interest and needs.
You will be greeted by a warm, clean, hygienic and safe environment full of laughter, singing and a range of resources that will enhance your child's learning.  The environment will enhance your baby's sense of wonder and curiosity and ensure that both yourself and your child feel included, acknowledged, and loved in our centre.
Our Parent Portal was designed specifically for our centre. It is an opportunity for you to engage with educators and have an accurate snapshot of what your child is doing throughout the day. Information that is available to you includes your child's daily sleep and eat chart, nappy change records, calendar of events, daily nutritional menu, notifications on whats happening in the centre and your child's detailed learning progress.
Educators take the time to regularly share and upload countless photos of your child's day which is a great opportunity for you to see what your child's doing.
You also have the ability to view the daily curriculum plan of what is programmed for your child's room.
Stay up to date with our interactive calendar of events and always remember the activities happening that day through our reminder notifications.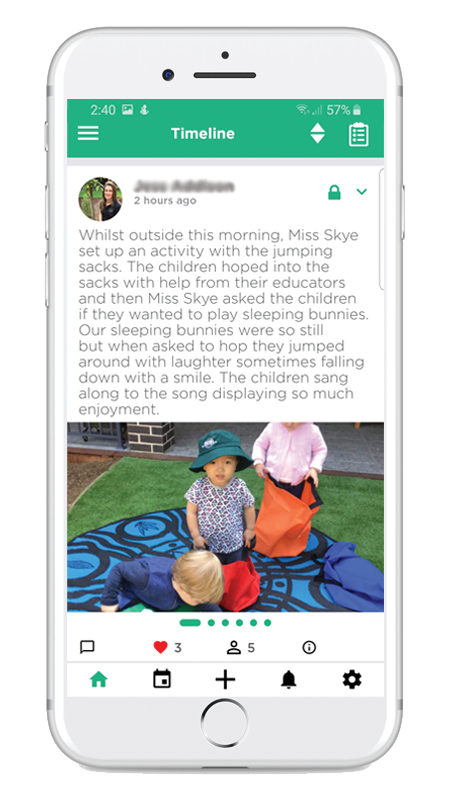 At Prepare Early Education Centres we are committed to ensuring that each child is supported to reach their full potential in an environment that is inclusive, warm and secure for your child. We recognise the Toddler age group to be an age of exploration, creativity and excitement. This age group explores their world with wonder and enthusiasm and our educators believe that all children should have the opportunity to learn and develop to their full potential.
Our highly trained and enthusiastic educators will respond to children's ideas in play, follow their evolving interests and extend upon their learning through the use of wonderful creative play spaces.
We offer an ever-evolving range of thoughtful, play based activities to enhance the children's disposition for learning. We provide our toddlers the opportunity to grow their independence, create friendships with others and learn new life skills.  We focus on areas of development such as a fun phonics based program to begin the journey of early literacy. We provide large construction areas to enhance creativity, problem solving and manipulative skills. We enjoy music and movement activities to encourage the exploration and development of body movements and special awareness, all crucial skills to develop and enhance with this age group. Creativity is at the forefront of our planning for this age group and encourages the toddlers critical thinking skills, expressive and creative thought processes and also ensures that we provide a fun and challenging environment for our curious toddlers! It is within this space that children learn patience, acceptance, inclusion and participation for all.
Junior Preschool 3-4 Years
We view our children as independent learners. All children have various interests and skills that we enhance, develop and challenge. We offer inquiry based programs that work together with our play based learning environments that promotes children to use open-ended questioning, predicting, explaining, shared thinking and problem solving supported by a diverse range of learning materials to extend and enhance the children's ideas and interests. We prepare your child not only for their school readiness journey but equip them with the skills and strategies to support a love of lifelong learning.
We extend upon current skills and offer learning opportunities in all areas of development. We provide opportunities for collaboration in everyday routines, experiences, planning and offer opportunities for your child to contribute to decision making in their everyday experiences and this ensures that your child is developing their independence and realising that they are an active contributor to their world.
In the junior pre-schoolers, our educators offer a defined learning routine that complements their transition to the next classroom. They begin a more focussed literacy and numeracy program that acts as a foundation for their next phase of the school readiness program. Investigations, research and project-based experiences are more frequent and enables children to delve deeper into meaningful topics of interest.
Our curriculum follows a school term approach and ensures that we focus on developing your child in six key learning areas in an age appropriate manner. The key areas that we focus on are: Literacy, Numeracy, Science, Creative Arts, Health and Wellbeing and Sustainability. Our Junior preschool educators plan a curriculum based on individual children's knowledge and development and the appropriate planning of this ensures that your child is actively involved in their learning journey.
Our unique curriculum draws upon national best practice, plus the latest university and industry research to ensure that we provide every child with an exceptional program.
Our Preschool programs are run by our experienced university qualified teachers and ensure that we offer your child a range of stimulating and thought provoking opportunities to grow and develop in all areas, ensuring that preparation for school is at the forefront of our curriculums. This will ensure that the children will be able to challenge and extend their own thinking, understand various concepts, create new knowledge and are given opportunities to enhance their skills and learn to value a love of lifelong learning. We provide regular parent – teacher meetings to ensure that the journey before school is collaboratively planned with the family to achieve the best outcomes for children. We recognise the importance of reciprocal relationships and value partnerships in learning. It is essential for both the child and family to be comfortable with the transition process, as we support you on this journey.
At Prepare, we take a holistic approach to teaching and learning and focus on children's physical, personal, social, emotional and cognitive development and wellbeing.
Approximately six months before school starts, your child will receive a School Transition Statement that outlines the progress achieved so far based on the key learning areas at school. This is a valuable report that aids schools in learning more about your child.
Every term our educators create term plans that outline the intentional teaching outcomes for the class. You will receive this plan prior to the commencement of each term to ensure that you are informed and aware of our planned goals for the coming weeks.
Our transition to school program includes school orientation visits and various incursions, lunch box weeks and school uniform week, to ensure that your child develops the necessary independence and self-help skills to assist with their school transition.
We offer the Macquarie University Pre-Lit Program, that focuses on phonological awareness and pre-reading skills. Our educators are trained in the delivery of the Pre-Lit Program to ensure that our children receive an exceptional program to enhance their skills in this important area.
At Prepare early Education Centre, your child will leave with valuable and enriched life skills that will create the foundations for their future school journey.